Articles and Videos
Effective Immediately!
The California Dental Board has decided to suspend the practical examination for Register Dental Assistants because RDA's "are under the full authority of the dentist when providing services and dentists are ultimately responsible to ensure the quality of that care, [so] RDAs pose a low risk for public harm." Successfully passing the written exam on clinical, law, and ethics will now be the final requirement to acquire a valid RDA license. All other educational requirements remain the same.
Click HERE to see the announcement from CDA. To find out how to become a Registered Dental Assistant in California.
Posted

Leslie Canham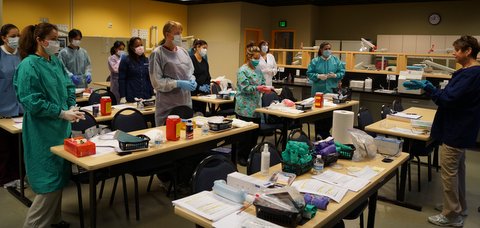 Dental assistants traveled as far away as Antioch to attend the Infection Control course taught by Leslie Canham, RDA at the San Mateo County ROP Classroom. Each of the dental assistants took away tips, tools, techniques to help them improve Infection Control and Office safety.
"I didn't realize that our office was not wrapping instruments correctly until I attended this class," said one of the more experienced dental assistants.
Posted

Leslie Canham
I am often asked best methods to sterilize burs. My answer "no method, treat as single use, disposable item." Check out the link below for more Information!
https://www.ncbi.nlm.nih.gov/pubmed/30108384
Posted

Leslie Canham
A current CPR card is a requirement for Dental License renewal. Did you know that in California you can apply up to four hours of the time spent in a CPR class toward your dental license renewal? Every two years dental licenses must be renewed. Dentists are required to accumulate 50 hours of continuing education. Dental Hygienists, Registered Dental Assistants, and holders of the dental sedation or orthodontic assistant permits must accumulate 25 hours. Registered Dental Hygienists in Alternative Practice must accumulate 35 hours.
You can get a CPR card from a number of different providers, but remember the CPR course must be live (online courses are not accepted) and the training must be either American Heart Association or Red Cross approved courses.
Posted

Leslie Canham
All Registered Dental Assistants licensed after 1-1-10 must obtain a Pit and Fissure Sealant certificate prior to their first license renewal.
Posted

Leslie Canham
The 2016 CDC Summary and Checklist for Infection Prevention Practices in Dental Settings is here! Every Dental Practice is at risk every single day of breaches in infection control. The CDC just released today the Summary of Infection Prevention Practices in Dental Seetings-BasicExpectations for Safe Care. This document includes several new recommendations and provides an assessment checklist to evaluate staff compliance.
Posted

Leslie Canham