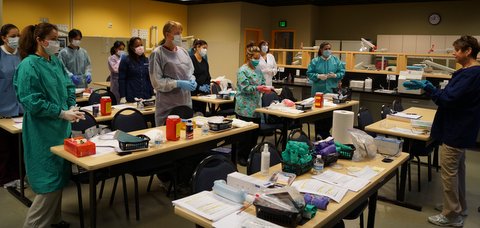 Dental assistants traveled as far away as Antioch to attend the Infection Control course taught by Leslie Canham, RDA at the San Mateo County ROP Classroom. Each of the dental assistants took away tips, tools, techniques to help them improve Infection Control and Office safety.
"I didn't realize that our office was not wrapping instruments correctly until I attended this class," said one of the more experienced dental assistants.
Another assistant didn't know that the dental board requires instruments to have the date of sterilization on the package. Some of the assistants were hearing about the Infection Control regulations for the first time.
"Since I am not an RDA, I am not required to take the infection control courses that the licensed staff takes. This is the first time I have ever participated in an infection control course and I learned a lot," reports another dental assistant from a small private practice.
The ROP classroom is a beautiful, state of the art class room for teaching dental assisting and infection control. I hope that dentists will take advantage of the opportunity to get their dental assistants trained in the fundamentals of infection control. Every dental assistant should be confident that they are taking the right steps for infection control every time, for every patient.
For details and registration information visit www.LeslieCanham.com or call 209-785-3903.